Back to Chronicles
Paper Mill Bridge Reconstruction Photos - May 26
Paper Mill Bridge Reconstruction Photos - April
Paper Mill Bridge Reconstruction Photos - March/February
pmbmay9
The Paper Mill Covered Bridge Reconstruction in Photos
May 9, 2000

To: Dick Wilson, Joe Nelson
From: David Guay
Hi guys, I went over to the Paper Mill Bridge again yesterday, and was pleasantly surprised to see that almost all of the rafters are done. Mark Mackintosh {VAOT Structures Engineer] looked over my Paper Mill history of construction book, and he said that he liked it. Here are some more pictures. later, David
Per Mark Mackintosh: On the 8th the original ridgepole was put up, but about one-third of it had to be replaced, as there was rot in the top of it. New roof rafters were installed with some of the upper knee-braces to help with line-up. A little over half of the knee-braces were salvaged. Of the rest, some had problems with splitting through the center, making them structurally unuseable, and there was rot and damage also. The cross ties and the diagonal bracing is done and approximately half of that was salvaged. The floor is all in, but not all bolted down yet. That will be completed when the roof is done.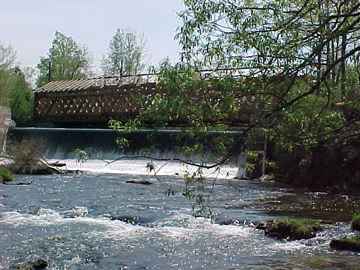 I call this "Out with the Old -- In with the New" - David Guay
←
May 2, 2000

Joe, The flooring is installed, but has to be secured to the floor beams. Mark Mackintosh the project engineer described the process that Blow & Cote will use to secure the flooring.
The Tie beams are being installed, and should be finished by tomorrow at the latest. They are using new lateral bracing, and some lateral bracing from the old bridge. Mark said that there is a possibility that Blow & Cote could start working on the ridgepole and rafters by the end of the week. He also said that approximately 50% of the old siding will be reused when the time comes to do that work. He also said that the new bridge will look just like the old Paper Mill covered bridge when it is finished. David Guay
This first picture shows the tie beams with the old & new lateral bracing
Some of the old lateral bracing waiting to be used.
The Paper Mill cb with Blow & Cote truck inside, the tie-beams & lateral bracing being installed.
The flooring all laid out, but needing to be secured to the floor beams.
April 20, 2000


Hi Joe, I did a program on covered bridges for the Hoosic Falls Historical Society on May 2nd and we took a ride over to see the Paper Mill Bridge. The Floor has been installed and the overhead bracing is being completed. This overhead bracing is where most of the old wood is used. Dick Wilson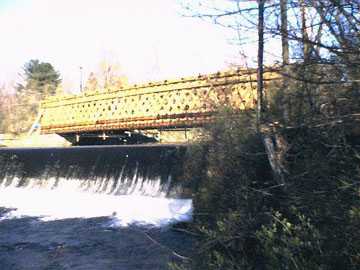 A side view of the Paper Mill Bridge from Bennington Falls
---
Joe Nelson, P.O Box 267, Jericho, VT 05465-0267, jcnelson@together.net
No part of this web site may be reproduced without the written permission of Joseph C. Nelson
Photographs and text by Richard Wilson. Copyright &copy, 2000, Richard Wilson
Photographs and text by David Guay. Copyright &copy, 2000, David Guay
This file updated May 30, 2000