Back to Chronicles
Paper Mill Bridge Reconstruction Photos - May 26
The Paper Mill Covered Bridge Reconstruction in Photos - March/February
March 23, 2000

Joe
I talked to Mark Mackintosh again today (3/23/00). He is the VT agency of Trans. Civil Engineer who is overseeing the construction of the Paper Mill CB. The down-river truss (D/R), 80% of the lattice is finished, and about 50% of the top & bottom chords are done. They have stopped working on the trusses now so that they can work on the abutments, and pour the base-plates. The west baseplate (on the side across from the mill) has been poured. Work is progressing on the east baseplate, and they should be pouring the concrete tomorrow. Then they will be working on the back-walls of the west side, and the east side back wall next week. While the concrete is curing, they will resume working on the trusswork-- that way there will be no downtime, and construction will continue.
I was informed that they will be lifting the trusses into place approximately three weeks from now. Mark will E-Mail me when he knows for sure, and I will pass it on to you as soon as I get it.
When the trusses are complete, this is what will probably happen: The D/R truss (the one on top now) will be lifted off and put on the side of the road, then a tractor-trailer with a 80'extened trailer will be put in place. Then the up- river truss (U/R) will be lifted and put on the trailer. Then it will be brought onto the bailey bridge, and lifted up with two cranes, and put into place. Then it will be braced to the bailey bridge so that it won't tip over. The process will be repeated again with the D/R truss. Mark figures that it will take at least one day to do this, maybe two.
Mark figures that approximately 15% to 20% of the old bridge will be reused in the new bridge. They will be using as many diagonals under the flooring as possible, about 50% of the ridge beam was salvageable, and about 50% of the top lateral bracing was also salvageable. They will be using as much of the side boards from the old CB as possible too. The new bottom chords and truss end beams are treated with the same material that telephone poles are treated with. That makes them much darker that the rest of the truss. Later, David
Check out the camber on the top truss.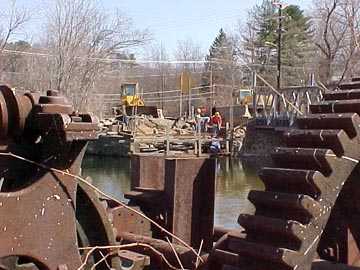 Neat picture of the men working on the east baseplate and abutment taken through the old cog wheel.
This is the west baseplate already poured and curing. The backwalls will be poured next week.
March 8, 2000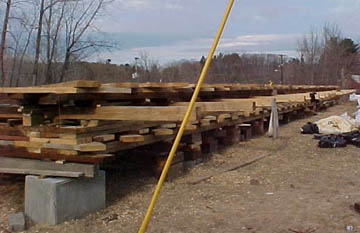 The new truss is laying on top of the finished truss. The finished truss will be the Up-River Truss when the bridge is being assembled.
A view of the new timbers being placed to be assembled next week.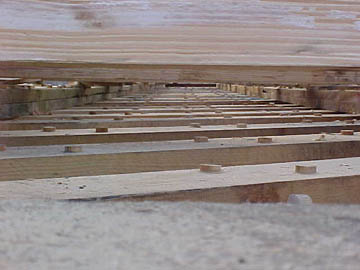 This a view of the completed truss with the new truss being laid out on top of it. You can see the camber by looking at the trunnels. Neat..!!
February 22, 2000
Driving treenails (pronounced "trunnels") with sledge hammers. The treenails are made of white ash, and the lattice and chords are of treated southern white pine.
Drilling treenail holes through the top chord.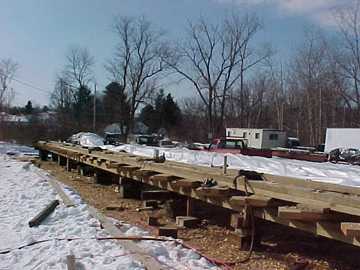 The Town Lattice truss laying down, with the top chord closest to the camera.
---
Joe Nelson, P.O Box 267, Jericho, VT 05465-0267, jcnelson@together.net
No part of this web site may be reproduced without the written permission of Joseph C. Nelson
Photographs and text by David Guay. Copyright &copy, 2000, David Guay
This file updated May 30, 2000