Back to Chronicles
Paper Mill Bridge Reconstruction Photos - May 26
Paper Mill Bridge Reconstruction Photos - March/February
pmbapril
The Paper Mill Covered Bridge Reconstruction
April 20, 2000

Dick Wilson & Joe Nelson,
Marikka and I went over to the Paper Mill CB work site again today. The floor beams seem to be in place, and they are using the old cross-braces from the original bridge to brace the new floor beams. Under (I believe) every other floor beam there is a long iron rod that goes from outside one truss, all the way through to the outside of the other truss. I think this is like a turnbuckle that can be tightened as needed.
The new floor beams do not go through the lattice like the originals did. Instead they are notched and rest on the bottom chord between the bottom and lower secondary chords. I would say about a third of the bottom cross-bracing is done. Things are really starting to take shape now. David Guay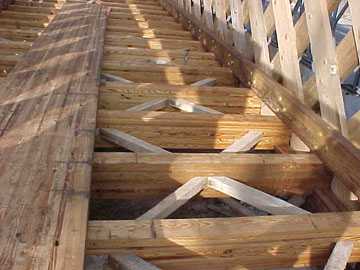 This first picture shows the new floor beams, and the old cross braces being used.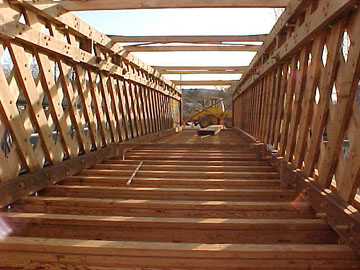 This is looking east to west through the trusses.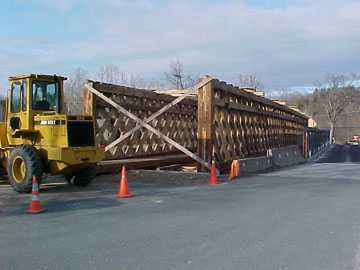 This is looking west to east.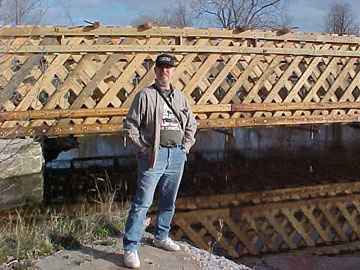 "Bridge man" David Guay.
April 20, 2000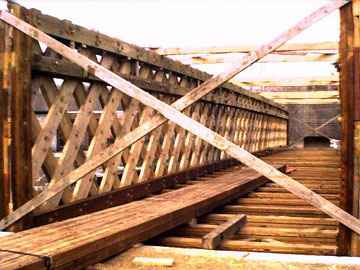 Hi Joe, I went to the Paper Mill Bridge yesterday and just missed Dave Guay. They are moving right along with the construction. The floor beams are in and they are glulam. They are large, very large. The first block of floor boards was being installed. It looks like they are building the floor elsewhere, and trucking them in in large blocks. The floor beams are just setting on the bottom chord. I don't like this, I think the old timers had a better idea of having them rest on both chord members. One of the photos shows a couple of the lattice timbers from the old bridge that they used. You can see how much bigger the new planks are. So much for the bridge being a replica of the old one!!! They are nothing alike.
Till my next visit, Dick Wilson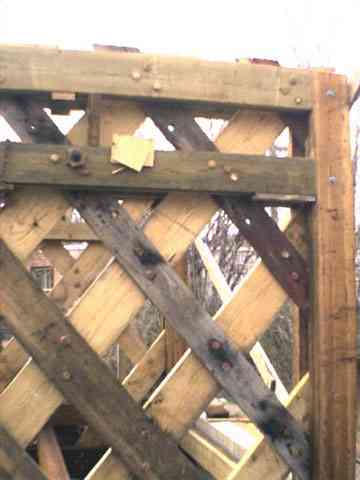 This photo shows the planks salvaged from the original bridge. Notice how much smaller they are than the new build. Dick Wilson
April 7, 2000

Hi Joe,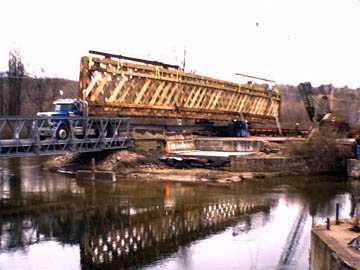 I got over to Bennington to see the first truss of the Paper Mill Bridge moved over the river and set on the abutments. It was done in a very different way. They put the truss on a big truck, then drove the truck and truss over the Baily Bridge, then a crane on that side and a crane on the other side picked the truss up and set it down on the downstream side. Here is a photo of the truck with the truss on it.
By the way, the next job Blow & Cote are doing is the Fuller Bridge in Montgomery, VT. They talked repair, but they said it will be built like Paper Mill. Looks like it will be a new bridge also!!!
Dick Wilson
April 7, 2000

Joe,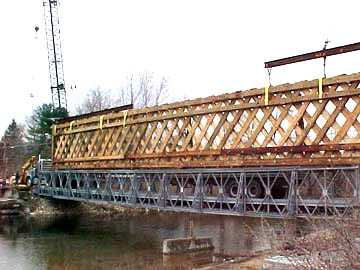 On Thursday April 6, the down-river truss was lifted and put into place and then anchored to prevent it from tipping over. On Friday April 7, the upriver truss was lifted and put into place. They were in the process of putting some cross beams on the tops of the trusses to connect them when I left at 3:00 p.m.
I ran into Dick Roy today, and Dick Wilson was there yesterday all day. Lots of CB talk both days. Lots of fun watching the workers do their jobs, and they are good at it.
Later, David Guay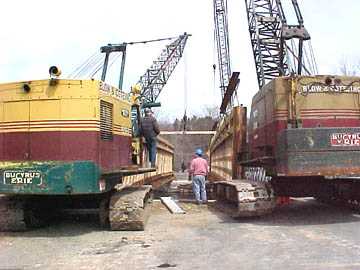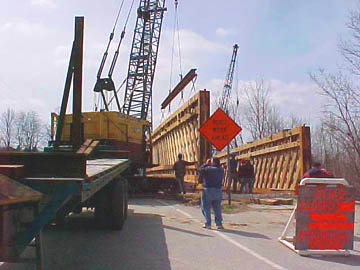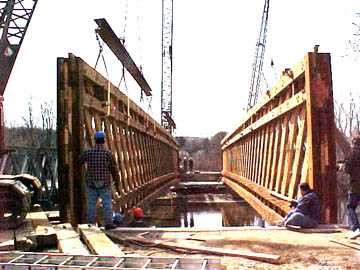 ---
Joe Nelson, P.O Box 267, Jericho, VT 05465-0267, jcnelson@together.net
No part of this web site may be reproduced without the written permission of Joseph C. Nelson
Photographs and text by Richard Wilson. Copyright &copy, 2000, Richard Wilson
Photographs and text by David Guay. Copyright &copy, 2000, David Guay
This file updated May 30, 2000