williamsville3

Return to First Page
Williamsville Bridge - December 4, 2009
WGN 45-13-05
Work has progressed on the first lattice to the point of drilling and installing tree nails. I would say about 1/3 of the tree nails are in. We did have heavy rain today and yesterday.
I imagine the crew is getting a long weekend. It's a busy highway; I saw about two dozen cars, two box trucks, and one motorcycle in the 15 minutes I was there.
I am curious as to why the glulam for the bottom chord? Does it have superior strength properties? It has also been a while since I did any work with structural strength of wood in various configurations, so I asked Tom Lacky, the designer of the replica. Tom replies;
"The bottom chord gets the greatest axial stress of all the chords. It's like a bottom flange of a girder. A glulam chord has greater axial strength than a timber chord.
"A glulam chord is also continuous, unlike the timber chords. Since the chord timbers are only 24 ft long, the original builders used pairs of timbers on each side of the lattice, so they would always have at least 3 members at a splice. This makes the structural width of a timber chord effectively only 3/4s as wide as the glulam chord.
"I would have liked to use timber for the bottom chord for authenticity, but the glulam chord will help the bridge resist modern truckloads."
Ray Hitchcock.


The west portal end of the truss - the glulam bottom chord.
The west portal end of the truss - the southern pine upper-bottom chord.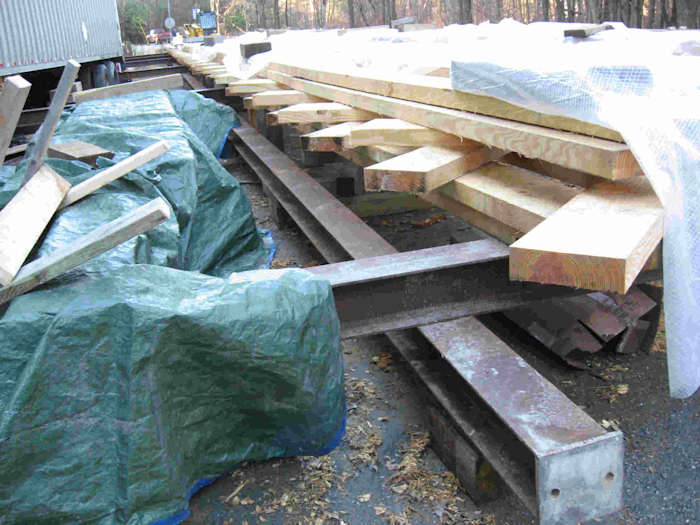 Unfinished lattic at east end of truss.
The top chords at the west end, ready for drilling.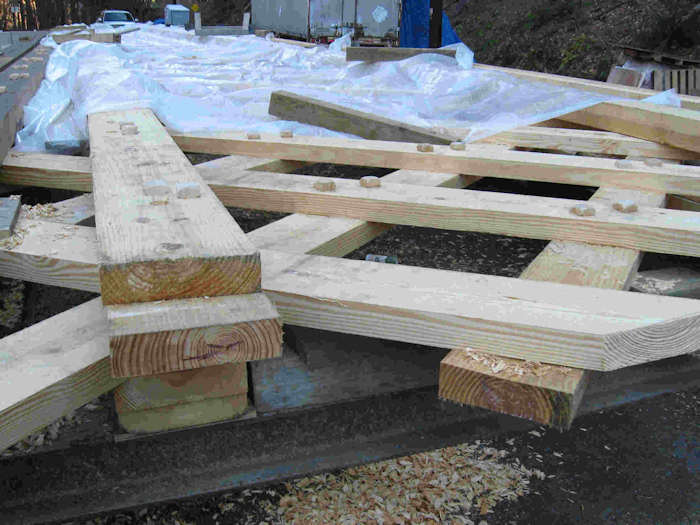 View of truss from west end showing work on lattice and upper and lower chords.

Joe Nelson, P.O Box 267, Jericho, VT 05465-0267 This file posted 12/09/2009