williamsville2

Return to First Page
Williamsville Bridge - November 23, 2009
WGN 45-13-05
The next three weeks will be spent building the lattice trusses and floor system for the new Williamsville covered bridge. A truck will be used to move it to the site once the old bridge is disassembled and removed, around July 10, 2010.
I visited briefly with Jim Ligon at the site this afternoon. Attached are a couple of photos showing the challenge of a very small constructions site on a busy highway. The work area was created by blocking off half of the highway a few hundred yards west of the bridge.
They were making good progress on the first lattice just as the next surge of rain began. It looked like Jim had a crew of 4-5 working. They should make good progress over the next few weeks.
Tom Lacky, P.E., Vtrans Project Civil Engineer, designed the replica bridge with help from John Weaver, He said. "I tried to follow the original bridge as much as I could. It was interesting crawling under and climbing on the old bridge to find the construction details and try to follow them."
I have also attached a photo of the steel bridge that will be used for the alternate crossing. I can see why natives are up in arms with the planned detour. The alternate crossing, rated at 24,000 lb, is at the end of a very narrow one lane road. Also quite steep. No other alternative is apparent.
Ray Hitchcock.


Jim Ligon, Alpine Forman, Supervises build.
Layout of the first truss has begun.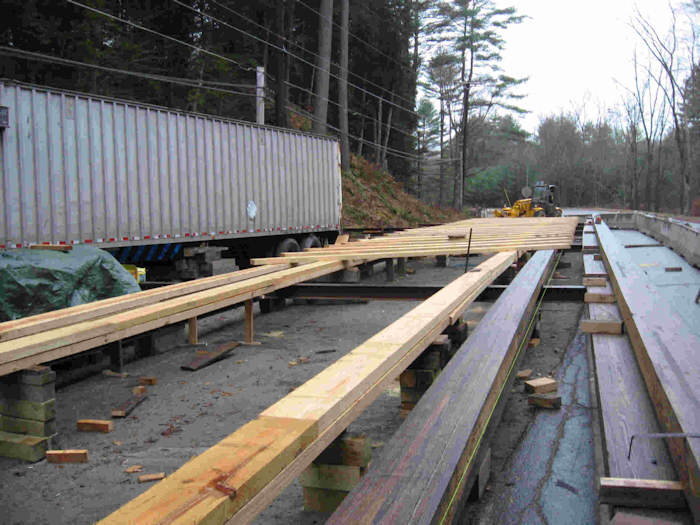 First truss assembly progresses. Note the built-in camber.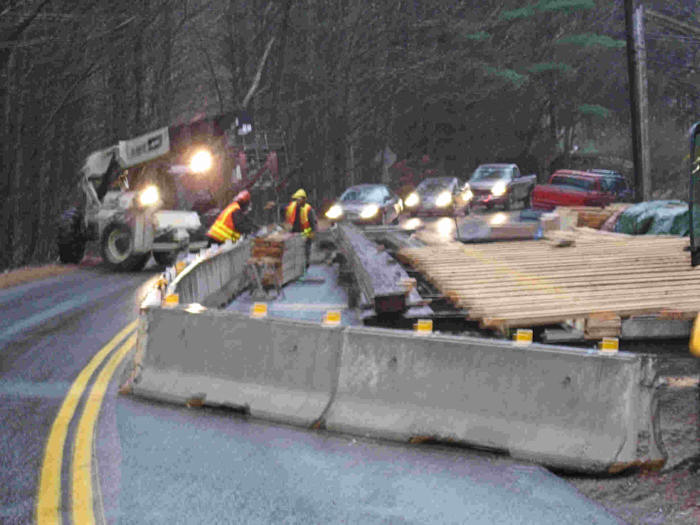 Traffic routed around work site.
The alternate crossing, a one-way bridge rated at 24,000 lb.

Joe Nelson, P.O Box 267, Jericho, VT 05465-0267 This file posted 12/07/2009