Westford.july20
Back to Work Begins.
Nearly Ready To Move!
Tuesday, July 17 - The bridge is up on cribbing ready for transfer to wheeled conveyance. Looking good!
Wednesday, July 18 - The bridge has wheels!
Friday, July 20 - starting at 8 a.m., the bridge will be moved down the hill and across the existing concrete bridge and raised on timber pilings to clear the rails and rolled across on I- beams to another set of pilings.
Saturday July 21 - starting at 7 a.m., the bridge will be lowered into place on the abutments.
ROAD CLOSING-8 a.m.-8 p.m. Cambridge Road will be closed from Rt. 128 to Old #11 Road. No traffic from Huntley Road onto Cambridge Road until the bridge has passed. Hope to see you all there! - Caroline Brown -
Final pouring, west abutment, June 28, 2001. →
Finished east abutment, side view, July 2, 2001. →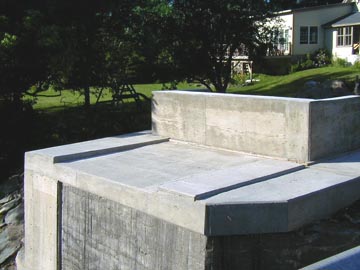 Finished east abutment, end view, July 2, 2001. →
West abutment finished, July 2, 2001. →
West to east abutments, July 2, 2001. →
East to west abutments, July 2, 2001. →

Joe Nelson, P.O Box 267, Jericho, VT 05465-0267, jcnelson@together.net
Copyright © 2001, Caroline Brown
This file revised August 5, 2001