west_montrose

Return to First Page
Protecting Covered Bridges From Oversized/Overweight Vehicles
West Montrose Ontario Bridge Damaged by Overloading: A Discussion
WGN 59-50-01*
October 19, 2012
Tony Dowling to Bill Caswell:
I wanted to send you a note regarding damage to the West Montrose Covered Bridge in Ontario, Canada. This 180' bridge was built in 1881, was at one time one of six covered bridges in Ontario, and now is the only remaining one.
It is owned by the Regional Municipality of Waterloo, having been "downloaded" by the province of Ontario in the late 1990's.
About a month ago, a kayaker paddling under the bridge noticed a large crack in one of the short beams that run crosswise under the bridge. These beams support the 2" x 10" (rough cut) stringers, which in turn support the 2" x 4" (stood on edge) floor boards. Engineers have determined that the damage is recent and was caused by an overweight vehicle. One of our residents had his computer camera trained on the bridge and saw a tractor pulling two wagons full of corn across the bridge around the time of the damage. The load limit on the bridge is 3 tonnes (3.3 tons); the weight of the tractor and loaded wagons would have been a multiple of this.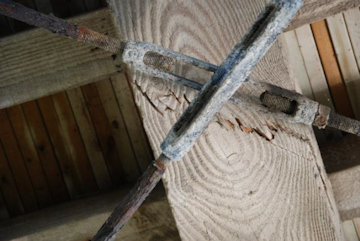 Broken Floorbeam, West Montrose Bridge -
Ontario Canada, WGN 59-50-01

The bridge has subsequently been closed to all traffic while repairs are being made. It may not be re-opened to vehicular traffic until the Region can develop a reliable plan to keep overweight vehicles off of the bridge without installing unsightly barriers.
I have included a few pictures of the damaged beam and the repair in progress. The repair work is quite interesting. Our bridge actually has a steel bailey bridge built into the walls, which shares the weight with the original wooden structure. The bailey bridge was installed several decades ago, when it was determined that the wooden structure could not continue indefinitely to carry the loads on its own. The contractor:
Ran steel beams across the bridge, supported by the bailey bridge on both sides
Drilled through the floor to hang rods on which they hung a scaffolding from the steel rods inside the bridge
Installed two temporary cross beams, one on either side of the damaged beam, to take the load off of it.
They are now waiting on a 12" x 12" x 20' (?) beam that was milled in British Columbia and is now in Toronto being pressure-treated
Once that beam is delivered, they will install it and remove the temporary beams.
Feel free to pass this along or post it.
I have a question for you or the "society": Do you have any suggestions or examples for cases where measures have been taken to keep oversized vehicles off of covered bridges? Height restrictors are unsightly. We have considered load sensors in the road approaching the bridge, with fixed and electronic signage warning of load limits and overweight vehicles, and triggering a camera to catch violators. Any ideas would be helpful.
By the way, there are several articles on the bridge damage. Let me know if you would like me to send the links.
Best regards, Tony Dowling,
BridgeKeepers,
West Montrose, Ontario,
http://www.bridgekeepers.ca

Bill Caswell to Tony Dowling:
Thank you for the update and for all the work BridgeKeepers does to raise awareness of the needs of the West Montrose Bridge. I have seen a couple newspaper articles about the bridge's closure due to the cracked beam and appreciate you sending the photos of the damage and description of the repairs taking place.
I am including a few others on this reply in case they have suggestions for methods of discouraging overweight/oversize vehicles from using the bridge. Unfortunately, that is an all too common occurrence. There are currently bridges in Pennsylvania and Indiana which are also closed because of truck damage.
I agree with you that solutions such as the height restrictors or "headache bars" used in many areas are unsightly. In some places they can be placed far from the structure, but that would not be possible in West Montrose with the intersection right at the south end of the bridge. I have seen instances where the portal is reconfigured so it provides a smaller opening. I don't know how effective it is. There are also instances where the height clearance posted on the bridge is lower than the actual clearance, but I expect that does as much good as the weight limit signs that are being ignored.
I had not heard of the weight sensor & camera combination before. That sounds like a great idea although it would be a potentially expensive project.


Tony Dowling to Bill Caswell:
Yes, it would be problematic to set height bars far enough away not to detract from the bridge, since garbage trucks and delivery trucks that do not cross the bridge would need to get past them to service the local homes.
We've been tinkering with the idea of a load sensor in the road, well away from the bridge, connected to an electronic sign that would warn potential offenders "Overweight! Do Not Cross Bridge! $5000 Fine." If that was combined with 24-7 video surveillance right at the bridge (aimed at license plate height), the sensor could also time-stamp potential violations so they could be quickly checked on the video to see if they crossed the bridge.
Your comments on cost are noteworthy. The Region investigated weight monitors and surveillance about 14 months ago. Their estimate for cost at that time was $50,000(+/-).

Timothy Andrews to All:
The photos show a material/ quality defect in the floor beam that is broken. You will notice a bulls eye pattern to the wood grain which is found near a large knot or branch. You will notice the knot is located near mid span of the floor beam, evidenced by its close proximity to the steel cross bracing where they cross each other at mid width.
Mid span is the worst location for a defect of the size and magnitude of this one, I'm surprised the timber lasted as long as it did. Though tell tales do work, a less expensive alternative would be to post the legal height limit at several locations on either side of the bridge with large and colorful signs. Repeated warnings in large format should alert the least mindful individuals that possible damage to both bridge and vehicle is possible.

Tony Dowling to Bill Caswell:
We're still in limbo here in West Montrose. Repairs to, and re-opening of, our bridge are now caught in bureaucratic red tape. We've been shut down to vehicle and pedestrian traffic for seven weeks. The contractor pulled the walls open and hung a beam through the inside of the bridge, from which they are lifting the bridge up to replace the beam. Unfortunately, the beam is still not installed (it has been hanging under the bridge for two weeks) and we have seen many days of no activity.
The Region has told us they will hold a public meeting in January to discuss if and how we might be able to get vehicles back on the bridge. They don't plan to even consider opening it to vehicles until after that.
The reason for my email is to see if your members /supporters have any good examples or ideas for restricting overweight vehicles. We don't want to end up with unsightly height restrictors at the ends of the bridge. We have a difficulty in setting them further away from the bridge, in that the road at one end "T"'s, with the bottom of the T going into the bridge. It's only about 20' from the bridge to the T, so there's no way to put a height barrier in that area that wouldn't be right against the bridge. We can't height-restrict the top of the T, because delivery vehicles, snow plows and garbage trucks have to access the road.
I don't know what road codes are like in most areas, but I'm sure the Ontario code would call for a height restrictor that is extremely solid and highly visible (black and yellow chevron boards, I'm sure). Are any of the bridges out there protected by:
Load sensors in the approaching roads?
Video surveillance?
Good/unusual signage?
Innovative barricades/restrictors?
We are a bit unusual in that we have horse and buggy traffic that needs to use the bridge as well. Our priorities are:
Pedestrians - absolutely
Horse and buggy - absolutely
Passenger vehicles - highly desirable
Light trucks (pick-ups) - desirable
Large trucks/buses/RV's - absolutely not!
Heavy farm vehicles - absolutely not!
The load limit on the bridge is 3 metric tonnes, which is a total of about 6600 pounds. That cuts it off at about a 2-1/2 ton pickup truck - not much. It's almost impossible to set up any kind of barrier that allows horses and buggies through, but doesn't allow cars and low trucks.
ANY suggestions or ideas would be greatly appreciated.

November 8, 2012:
Bill Caswell to Tony Dowling:
Sorry for the delay in responding. I did bring up your situation at our October 20th meeting. Unfortunately, I don't have much to report. No one could recall any use of weight sensors and video surveillance at a covered bridge. There was mention of larger or more frequent signage noting the load limit and possibly a mention of fines/penalties associated with overweight vehicles.
I have attached a picture that I took in Downsville, New York last summer where they chose to limit the width of the vehicle instead of the height. It isn't quite as unsightly as the overhead steel beams. The Blair Bridge in Campton, New Hampshire has a heavy pipe suspended from the portal by chains. It doesn't restrict large vehicles from passing through, but if you are too high you know you hit something when you enter the bridge. I don't know how effective it is.
I have also attached picture of the Pont des Souvenirs in western Québec taken in 2006. Not very attractive, but it gets your attention. If I think of other types of controls, I will pass them along.
Pont Des Souvenirs - WGN 61-02-33
Photo by Bill Caswell, 2006

Downsville Bridge - WGN 32-13-01
Photo by Bill Caswell, July 23, 2012
* If you have a suggestion as to how to protect our covered bridges from overweight/oversized vehicles, go to: http://www.bridgekeepers.ca, "Broken Bridge".

Joe Nelson, P.O Box 267, Jericho, VT 05465-0267 This file posted 11/14/2012