vietnamcbs2

Return to First Page
Japanese Covered Bridges in Vietnam(continued)
These are pics of Thanh Toan Bridge located 7km east of Hue in central Vietnam.
The covered bridge was built over 200 years ago in 1776 over Nhu Y River which flows around Thanh Toan Village in Thuy Thanh Commune, Huong Thuy District.
The bridge is made from precious wood and is tile-roofed with a length of 17 meters (55.7 feet) and a width of four meter (13 feet).
On both sides of the bridge are rows of wooden platforms and parapets for people to lean against. The bridge was used as a place of relaxation for travelers and villagers after field work.
A lady named Tran Thi Dao who had married a high-ranking mandarin, provided financial support for the construction of the bridge so that villagers on both sides of the river could cross without getting wet or transport goods easily and weary travelers could rest.
I was there in August which is stinking hot and the water level is low (as seen in the pics) but the area is subject to heavy flooding.
Cheers, Mark


Thanh Toan Bridge located near Hue, Vietnam.
Photo © 2008 by Mark Kibbler
Thanh Toan Bridge located near Hue, Vietnam.
Photo © 2008 by Mark Kibbler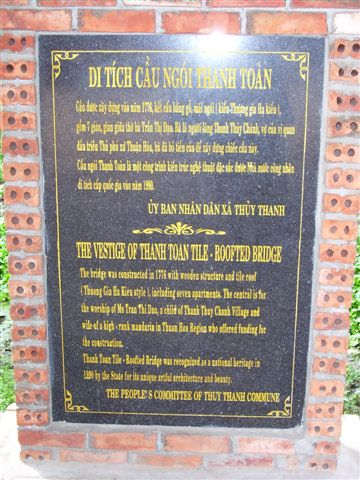 Thanh Toan Bridge located near Hue, Vietnam.
Photo © 2008 by Mark Kibbler
More Than Toan

Joe Nelson, P.O Box 267, Jericho, VT 05465-0267 This file posted 10/15/2008, updated 10/16/2008