nb2_keating
The Keatings Explore New Brunswick, Part 2
Getting There: Maine CBs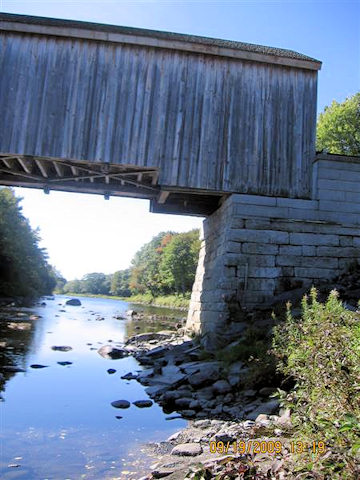 Low's Bridge Abutment
WGN 19-11-01
Hi Folks
After our train trip, we headed towards New Brunswick planning to visit the last three of Maine's covered bridges that we had not yet seen--Low's, Robyville, and Watson.
I have attached three pictures of Low's bridge, two of which show the abutments in detail, and of a sign giving the history of Low's bridge, with pictures of previous bridges.
I have also attached three pictures of Robyville, one with abutment detail and one with Liz. The Robyville bridge is the only one in Maine with a shingle roof and Ben and June Evans, author's of a New England covered bridge book, believe that it is the only one in New England completely covered on the sides and portals with shingles.
Finally, I have attached two pictures of the Watson bridge. The pictures are not in order, because some were taken by me and some by Liz.
We entered New Brunswick, Canada about 7 pm, which became 8 pm Atlantic Standard time. We had a reservation at the EconoLodge in Woodstock, New Brunswick for three nights.
Tom






| | |
| --- | --- |
| | |
| Low's Bridge, 19-11-01 | Low's Bridge. |
| | |
| --- | --- |
| | |
| Low's Bridge sign. | Robyville Bridge WGN 19-10-02. |
| | |
| --- | --- |
| | |
| Robyville Bridge abutment. | Robyville Bridge and Liz Keating. |
| | |
| --- | --- |
| | |
| Watson Bridge WGN 19-02-01. | Watson Bridge. |

Joe Nelson, P.O Box 267, Jericho, VT 05465-0267 This file posted 11/1/2009