On the way home I visited the Mill Bridge in Tunbridge. The workers were gone. They have started work on the 2nd truss that they are building on top of the first truss. They have the steel beams across the river so they can move the new bridge across. The work seems to be coming along very well.
[*After attending the first Director's Meeting of the Vermont Covered Bridge Society in Cambridge, VT - JN]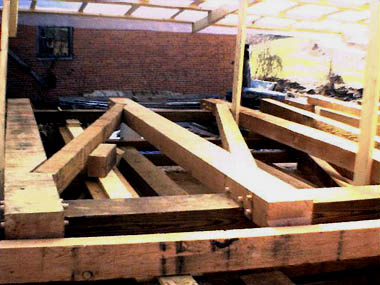 Here is a close view of the multi-kingpost truss.
Dick Wilson
(May 19) Says Dave Earl, a project coordinator for Daniels Construction: ". . . The verticals (king posts) are select structural douglas fir and the diagonals (braces) are dense select structural douglas fir . . . . It was my job to count hardware and lumber, get pricing and order the material. It was quite a challenge. . . . The project is ahead of schedule."








Saturday, 25 Mar 2000
Hi Joe,
We had to go up to Canada to put some finishing touches on the Safari route. We also found out that Coaticook, Canada has a covered bridge, not listed in the Guide. It was damaged by the same floods that damaged the Montgomery,VT bridges a few years ago. They completely rebuilt it.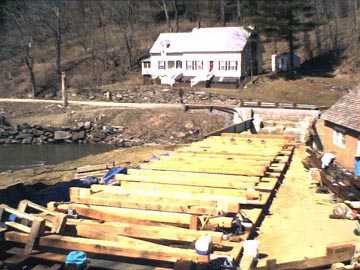 On the way back we stopped in Tunbridge and found them working on the new covered bridge. They had just started work on it on Monday. They have one truss laid out and I saw them install two counter braces. It looks like they are doing a great job. The Truss is of western Hemlock and the chords are Southern yellow pine. The foreman said that they were going to use native Hemlock, but Phil Pierce upped the dimensions, and they had to go west to get the size.
The picture was taken the 24th. Dick Wilson (rjwil@borg.com)
---
Joe Nelson, P.O Box 267, Jericho, VT 05465-0267, jcnelson@together.net
No part of this web site may be reproduced without the written permission of Joseph C. Nelson
Text Copyright © 2000, Richard Wilson
Photograph Copyright &copy, 2000, Richard Wilson
This file updated May 29, 2000