keatings on rails4
Back to First Page.
The Keating's On Rails IV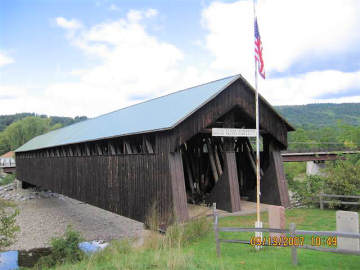 Blenheim Covered Bridge
NY-48-01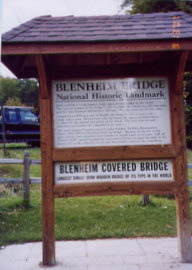 Blenheim Covered Bridge Sign
November 27, 2007 - On Thurs.,Sept 13, we drove first to the Blenheim covered bridge, in North Blenheim. Blenheim bridge is listed on the National Register of Historic Places(see scan w. sign). It is the longest single span bridge in the world and one of only 6 "double barreled" covered bridges in the world.
In the afternoon, we drove to Arkville and visited the Millbrook, Forge, Tappan and Myers bridges. The Millbrook bridge, aka Grant's Mill bridge, had a sign inside it put up by the Millbrook town board. The sign explained that this was the Millbrook bridge and not the Grant's Mill bridge, which was located down the river a couple of miles until it was washed away by a food a few years ago. The sign stated that this bridge had been misidentified in the World Guide to Covered Bridges(WGCB), and in a book by Richard Sanders Allen, "Covered Bridges of the Northeast.". Although the sign did not mention the NYS Covered Bridge Society, its website also identifies this bridge as Grant's Mill.
There are 2 pictures of Millbrook, 1 taken by Liz w. a historic marker sign and 1 by me showing the dry rock support and wings. I climbed down the steep bank and fell in the process to get the picture. Myers bridge has been rebuilt and may not be authentic anymore. It has some steel support. I noticed that the Tappan and Millbrook both have wings.
We then returned to our motel, having visited the last of NY state's covered bridges. Liz wants to visit all 800 in the US. Back in 2000, we took a trip to visit cousins of Liz--1 in N. Carolina and 1 in New Orleans. I planned the trip to visit as many cbs as possible, and we saw 23--the most in any trip up till then. I said to Liz when we returned home:"So, since we found so many this year, that means we don't have to look for any covered bridges for a couple of years." Liz responded "Oh no, Tom, there are about 800 covered bridges in the US and I want to visit all of them." Liz is now up to about 450 covered bridges from about 100 in 2000.
On Friday, the 14th we took a cruise on the Hudson river out of Kingston. A replica of Henry Hudson's Half Moon was sailing the river during our cruise and docked next to us when we returned. The Half Moon painted on the back end of the ship is just barely visible in the dockside picture.
Tom
All photos taken by the Keatings.
Millbrook Covered Bridge
NY-56-01

Tappan Covered Bridge
NY-56-03
Millbrook Covered Bridge
NY-56-01

Forge Covered Bridge
NY-56-02
Myers Covered Bridge
NY-56-04

Myers Covered Bridge
NY-56-04
| | |
| --- | --- |
| | |
| Halfmoon Replica Docked | Halfmoon Replica Under Sail |

Joe Nelson, P.O Box 267, Jericho, VT 05465-0267 This file posted 12/04/2007