johnson.news12
Back to Johnson Covered Bridge News
Community Work Day Held at Power House Bridge
June 22, 2002 -In spite of the rain and the morning mist, a small army of citizens converged on the new Power House Bridge. Lawn mowers, string trimmers, and chainsaws sang a chorus to a background of screeching power saws and pounding hammers.
With the grass trimmed and the brush cut the bridge site is a handsome centerpiece, a point of pride for residents and a welcome for visitors to Johnson. Photographers again have a clear view of the bridge from Route 100C on the downstream side.
Town carpenters framed the six windows and built and installed flower boxes in each. Green thumbs quickly filled the boxes with blooms. Everyone worked hard, including the kids, who had their chance to drive some nails.
The highpoint of the day came with the "Golden Nail" ceremony when the sign from the lost bridge was put in place high on the east gable-end. The sign is mounted on scraps of wood from the old bridge. Senator Susan Bartlett, Representative Mark Woodward, Selectboard Chair Eric Osgood and Selectman Howard Romero high on the ladders, did the honors.
An added feature to the bridge was installed by local photographer Howard Romero; an interior lighting system designed to illuminate the intricate upper upper roof structure at night. Another feature, left by Blow & Cote, is a wooden plaque, attesting to the pride the builders have in their work, a job well done.
| | |
| --- | --- |
| | |
| Photo by Joe Nelson, June 22, 2002 | Photo by Joe Nelson, June 22, 2002 |
| | |
| --- | --- |
| | |
| Photo by Joe Nelson, June 22, 2002 | Photo by Joe Nelson, June 22, 2002 |
| | |
| --- | --- |
| | |
| Photo by Joe Nelson, June 22, 2002 | Photo by Joe Nelson, June 22, 2002 |
| | |
| --- | --- |
| | |
| Photo by Joe Nelson, June 22, 2002 | Photo by Joe Nelson, June 22, 2002 |
| | |
| --- | --- |
| | |
| Photo by Joe Nelson, June 22, 2002 | Photo by Joe Nelson, June 22, 2002 |
| | |
| --- | --- |
| | |
| Photo by Joe Nelson, June 22, 2002 | Photo by Joe Nelson, June 22, 2002 |
| | |
| --- | --- |
| | |
| Photo by Joe Nelson, June 22, 2002 | Photo Courtesy of Yvonne Osgood, June 22, 2002 |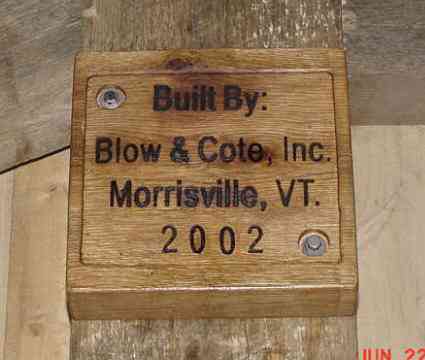 Photo Courtesy of Yvonne Osgood, June 22, 2002
Return to top

Joe Nelson, P.O Box 267, Jericho, VT 05465-0267, jcnelson@together.net


No part of this web site may be reproduced without the written permission of Joseph C. Nelson
This file posted August 5, 2001, revised June 25, 2002