hutchins_091005
Hutchins Bridge Reconstruction Progress - October 5
WGN 45-06-07
October 5, 2009 - The work site is a very busy place today as preparations begin to send away the heavy equipment. The temporary bridge has been removed from the site and the abutments prepared for it taken down or covered. The work on the bridge superstructure nears completion.


The sheathing on the east portal is nearly complete.
The sheathing is complete on the north, or downstream side of the bridge. The nailers are in place for the sheathing of the west portal.
A "through-the-bridge view" from the west portal. Note the new barrier timbers installed to protect the trusses from vehicles. The new flooring is laid with quarter-inch gaps between planks.
Inside view of the south, or upstream truss. Much of the original fabric is retained (the dark timber).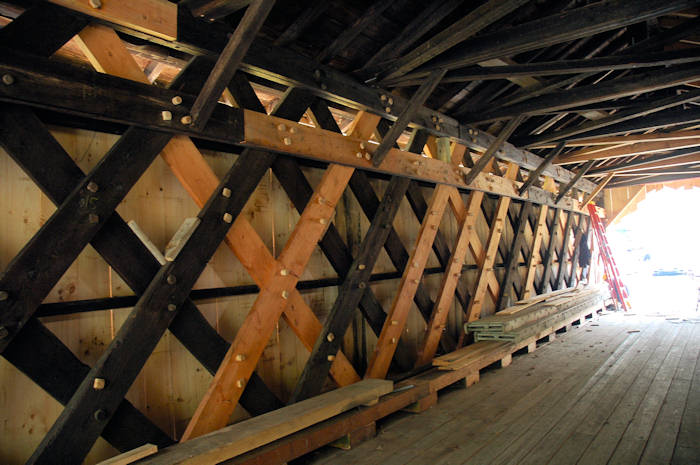 Inside view of the north, or downstream truss.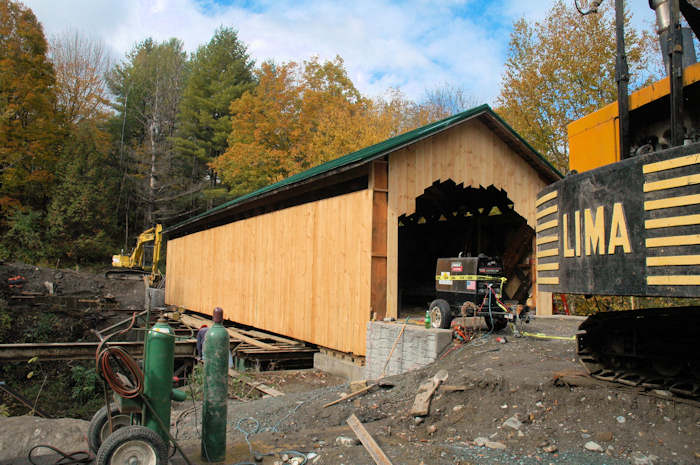 View of the upstream side from the east approach. The temporary bridge is removed giving a clear view of the bridge.

Joe Nelson, P.O Box 267, Jericho, VT 05465-0267 This file posted 10/09/2009