Boonville Covered Bridge Dedication Great Success
by Dick Wilson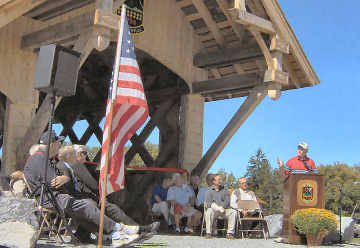 Dick Wilson speaks at Erwin Park Covered Bridge dedication
Sept. 24, 2005, Boonville, N.Y. - The dedication of the Boonville Covered Bridge was a great success. The day was just beautiful and many people attended the ceremony. Here are some clippings from the paper that tell of the dedication. The covered bridge Society's were well represented with many members in attendance.
Here are a few pictures from the Boonville dedication. After I pounded in the last peg, I was presented with the hammer that was made from the wood that went into the bridge. As you can see, It is a very nice bridge.






| | |
| --- | --- |
| | |
| Oxen join the fun | Ceremonial hammer made from bridge material |
Dick Wilson drives in last "trunnel"

Boonville NY's New Bridge.
Photo by Dick Wilson, Sept. 24, 2005
Erwin Park Covered Bridge Dedication Set for September 24, 2005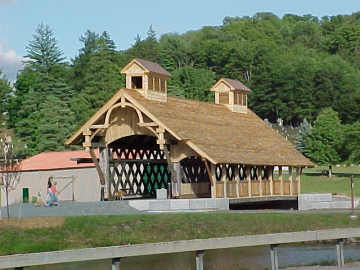 Erwin Park Covered Bridge.
Photo from Janet Corby Sept., 2005
Boonville, NY, August 23, 2005 -Please join Boonville residents and other covered bridge enthusiasts in the State of New York for the dedication of our newest covered bridge. The town of Boonville will be hosting a gala celebration of the Erwin Park Covered Bridge on Saturday, September 24, 2005 at 1:00 pm. An exciting day is being planned and it is an event you won't want to miss.
A representative of the US postal service will be in attendance to cancel a first day issue cover envelope that will depict the covered bridge. There will also be covered bridge medallions given away to the first 500 guests. Both designs are the work of Boonville's own talented artist, John Mahaffey.
If overnight accommodations are needed, please visit the following website for a listing of area accommodations: http://www.starinfo.com/woodsmen/lodging.html

New York's Newest Covered Bridge
NY-33-03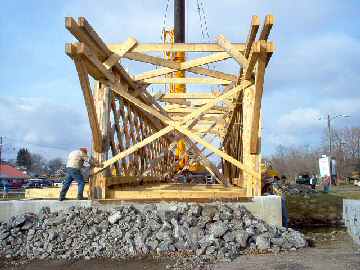 Boonville NY's New Bridge.
Photo by Dick Wilson, November 19, 2004
November 19, 2004, Boonville, NY - On this day a new covered bridge was placed over the Black River Canal, connecting the historic Black River Towpath with Erwin Park.
The bridge will serve pedestrians, bikes and snowmobiles accessing a Black River Canal museum planned for Erwin Park.
The bridge spans 70 feet using a Town lattice truss. The deck, 24 feet wide, will accommodate a 14 foot driving area and a 6 foot walkway.
The 12-member Erwin Park Covered Bridge Committee planned and promoted the project. The estimated cost of the bridge was $150,000. The construction is being funded by a $100,000 grant from the New York State Parks Department and a donation of $20,000 from the Iroquois Pipeline Co.
The Boonville, N.Y. span will be listed by the National Society for the Preservation of Covered Bridges as World Guide Number 32-33-03.
Boonville NY's New Bridge.
Photo by Dick Wilson, November 19, 2004

Boonville NY's New Bridge.
Photo by Dick Wilson, November 19, 2004