This is about the Paper Mill Covered Bridge in Bennington, Vermont. It is gone! That nice old historic covered bridge has been taken down.
It all started in the middle of December 1999 when I received an E-mail from a friend in Washington County, New York. All it said was "Paper Mill Bridge was burned on purpose this week." I got on my E-mail and passed this information on to other covered bridge friends.
Back come some E-mails, Bridge is OK, it was only a trash fire of rotten wood and roof pieces. I did not believe this, but I could not prove it. I called a person I know in Bennington and he verified what I knew was true. The covered bridge was removed in four sections, than cut up in about 10 foot lengths so it could be stacked up and taken away. He said the roof and roof parts were burned.
I had to see for myself. On January 6th, we made the over 150 mile trip to Bennington. What a sad sight that the beautiful red bridge over the falls was gone! Piles of Town Lattice Truss was stacked up on the sides of the road. You could see where the fire had been.

I went to the paper, the Bennington Banner, to see if I could get a clipping of the bridge being taken down. The paper did not report on the bridge being removed, so no one there knew the bridge was gone. We went to the nearby K-mart and the people there also did not know the bridge had been removed.
The bridge was removed very quietly and with no fanfare. How can this happen? Bennington has a replica covered bridge in the Henry Bridge only a little over a mile away. I just can't understand why they would want another replica. I am told the engineers said it could not be fixed. I can't agree with that. I have seen some pretty bad bridges brought back to useful service.
My feeling are that Bennington has lost something special. A replica is nothing like the old bridge. I fault the officials, the highway department and even the local paper for not bringing this deed to the public's attention. There is no record at all of the bridge being removed.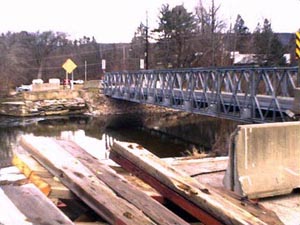 Bennington will have only one historic covered bridge. We can all hope nothing happens to it.
Richard Wilson (President, New York State Covered Bridge Society)
---
Joe Nelson
P.O Box 267, Jericho, VT 05465-0267
jcnelson@together.net
No part of this web site may be reproduced without the written permission of Joseph C. Nelson
Text Copyright © 2000, Richard Wilson
Photographs Copyright &copy, 2000, Richard Wilson
This file updated 1-15-00